WHO WE ARE AND WHAT WE DO
Ideas That Work
Ideas That Work (Ideas) are a graphic design, web, print and marketing team based in Leeds. Whether you're after a full brand identity, logo design, stationery design and print, brochures, banners (pretty much anything in print), a website or a marketing strategy, Ideas are here to help.
We have loads of experience (years and years of it) and knowledge. This means we have been lucky enough to work with businesses of all sizes across many sectors. Whether you are a start up, sole trader, a corporate or an international firm, our skilled team will ensure that they come up with the ideas that help your business stand out from the competition.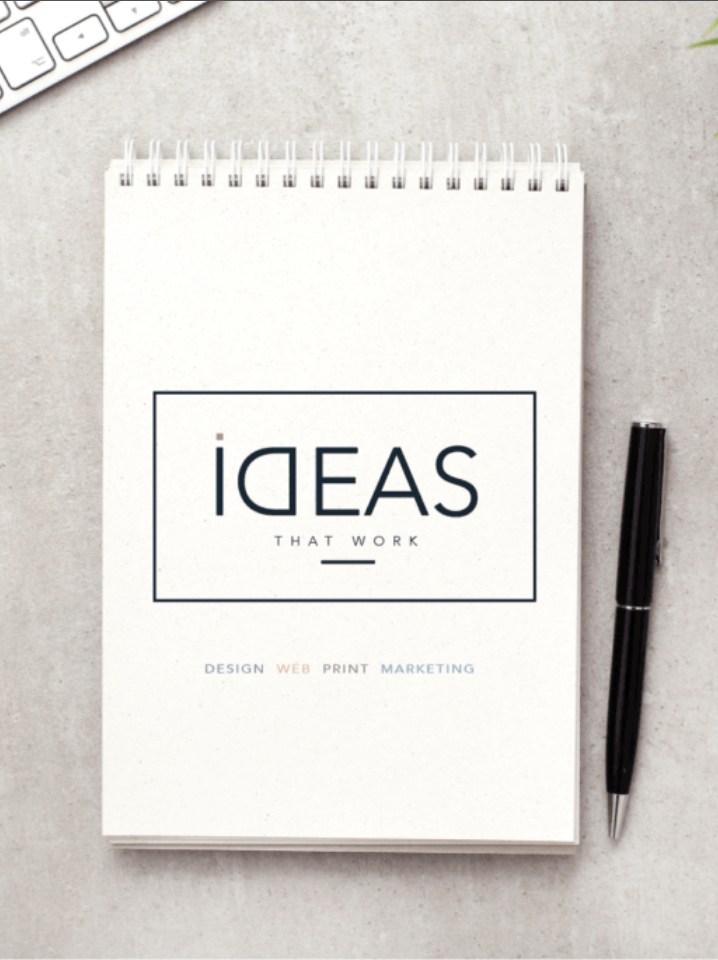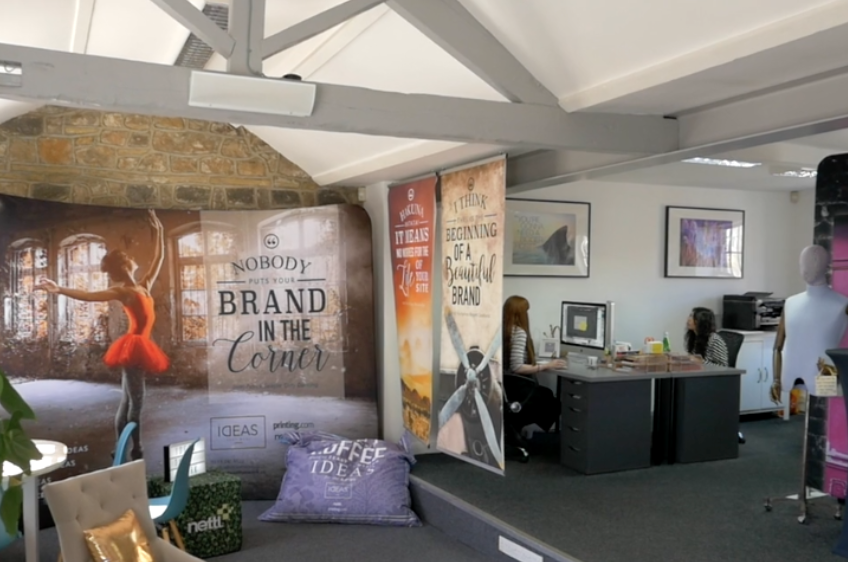 Our Studio
A warm welcome to our quirky, creative and energetic studio. Hidden away in the heart of Chapel Allerton – our studio will pleasantly surprise you and get your creative juices flowing. We have a number of our fabulous ink on fabric exhibition stands on display as well as a large format printer for those last minute pull up banners – and of course, you'll find our team – the people behind making IDEAS come to life.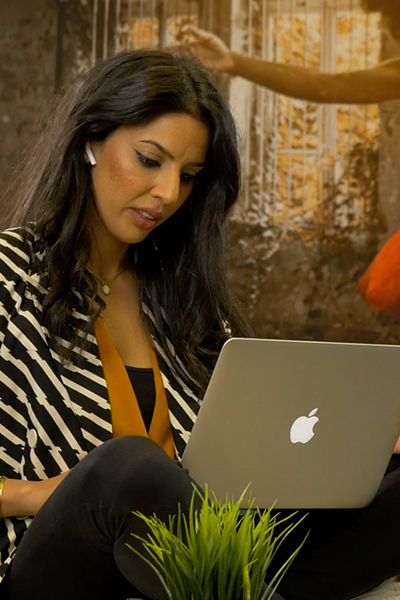 My role is fabulously varied. From naming businesses, coming up with branding concepts, writing marketing plans through to design for print and building websites.
I approach every project with the end goal in mind. What's the point of creating beautiful things if they simply don't work. Making ideas that work is my passion – after all its in the name. I'm pretty skilled in drawing, mainly cartoon style – and my handwriting and calligraphy skills aren't bad either!
READ MORE
I'm a great believer in the power of partnerships. I love being on a journey with my clients, whether they're a start up, established or a growing business – 15 years in the industry and I still wake up with a spring in my step every day wondering what exciting things I'll help create that day.
Oh, and I'm also responsible for some of the less exciting stuff in the business, like admin – but hey, someone has to do it.
In my spare time: I love being outdoors, breathing in the fresh Yorkshire air. I love eating (the team will vouch for this), I'm a sucker for stationery and love buying books – although getting round to reading them sometimes take a bit of time.
Favourite food: Pizza (although, its not the same since I had to go dairy free, gluten free and egg free!)
Favourite place I've visited: Thailand – Koh Samui
Favourite Quote: It means no worries for the rest of your days, it's our problem free philosophy – Hakuna Matata!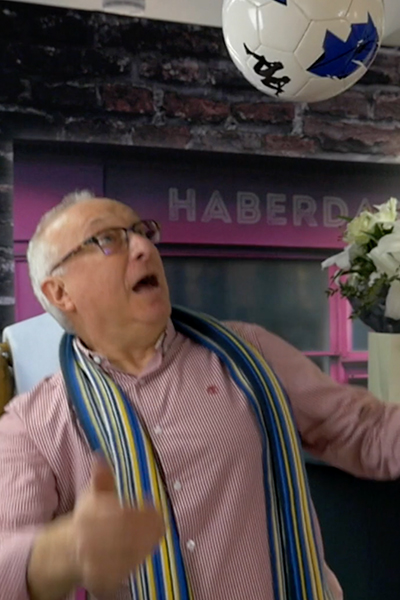 If you call, it's probably me who answers the phone. I'm client relationships, print management and sales at Ideas. I have a whopping 36 years in design and print and ran my own business for 34 years before handing over the reigns to Dally in Jan 2017.
My main creative interest is logo identity – I just love coming up with concepts for new brands or brand refreshes – which Suzanne brings to life digitally.
READ MORE
I love that we work so collaboratively in our studio – we talk about all projects together – after all, everyone brings different ideas to the table. Being pretty much a full service agency means each day is varied and we can provide our clients peace of mind that their design, web, print and marketing needs can be looked after under one roof to ensure brand consistency. The fast pace environment helps keeps me on my toes and keeps me young!
I thrive on building relationships with people – and this is how we get most of our business. I am a great believer that people buy from people, so I spend each day focussing on building our partnerships, networking and ensuring our clients get the best service possible from us.
I love working in Chapel Allerton because it is such a diverse area for retail and business and it always feels so buzzy and exciting!
Favourite food: Fish and chips! Especially in the car – before a Leeds United game (Leeds! Leeds! Leeds!)
Favourite place I've ever visited: India
Favourite Quote: Is the hokey cokey what it is really about?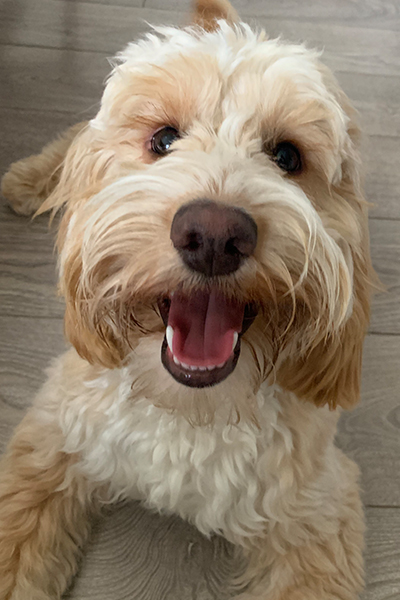 Woof, I'm Toby – the studio dog! I'm only an apprentice, I was born In Oct 2019. My role is to shred paper, greet people and to get the hoomans away from their desk and to the park everyday over lunch!
I love cheese, ham, frozen peas, peanut butter, cream cheese, turkey, chicken, melon, raspberries – okay, the list goes on.
I don't care how little time it has been since I last saw you, I'll always greet you like the very first time. The hoomans say I give the best cuddles and that I make the studio feel nice and calm. 
WHY CHOOSE IDEAS THAT WORK

CREATIVE
We're a design studio! You'd expect us to be, right?  We work as a team on all web and branding projects and start with sketches and drawings first before bringing visions to life digitally.  

PASSIONATE
Not everyone wakes up excited to see what awaits them in their inboxes. We genuinely love what we do. Watching businesses flourish is the most satisfying feeling for us.

LOYAL
We're in it for the long run. We believe a collaborative relationship produces the most effective work. Therefore, your best interest will always be our first and foremost.

FRIENDLY
Well you'd expect us to be anyway right? But honestly, when we ask clients what made them choose us, they really do comment on our friendly attitude!

COST
We're a responsible Yorkshire based studio so we'll make sure that the creative solutions we suggest for you work for the budget you have in mind.

CONNECTED
We've been around a long time, which means we're pretty well connected. So, if there is something we cannot directly help with, we probably know someone who can.

EXPERIENCED
Between us we have more than 50 years experience in design, web and print. Now that doesn't mean we're old school, it just means we know a thing or two and usually know what we're talking about.

PRACTICAL
There is nothing more we love that creative design, however sometimes the most jazzy designs aren't actually practical in print – so we'll only suggest creative solutions which we know can be produced!
THE PROOF IS IN THE PUDDING
" I have worked with Ideas That Work on a number of  creative jobs in recent years, and trust they will get the job done on time and to a high standard. Their quotes are competitive and clear." 
"I've used Ideas for the best part of 2 years now, for a business re-brand, where logo, business cards and flyers were designed, and a fabulous website designed too. I have received excellent service, Dally taking time to understand me and my business to come up with creative, consistent, contemporary designs to reflect my brand. "
"The Ideas That Work team are excellent! Super friendly, great design work at a reasonable price for the high quality and a studio you'll never want to leave (their good taste extends to decor too)! I've used their services (business cards, logos) for 7 years now and have never been disappointed."
Latest thoughts from our team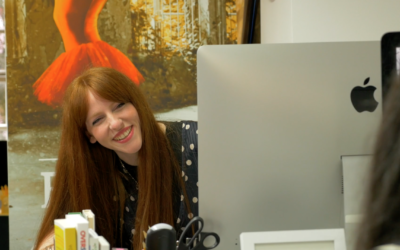 I love knitting. I've been an on off Knitter since my nannie taught me as a little girl, but now I'm full on addicted.If I don't have a knitting project on the go I feel lost and get annoyed with myself until I start a new one, but as soon as I do the world feels...
Let's Create Ideas That Work
We can't wait to see how we can help bring your IDEAS to life. Drop us a message, give us a call or make an appointment to see us. We'll pop the kettle on.
studio@ideasthatwork.co
31 Well Lane, Chapel Allerton, Leeds LS7 4PQ
0113 240 9822